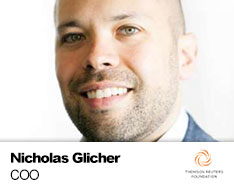 Nicholas Glicher /
Thomson Reuters Foundation
Nick joined the Thomson Reuters Foundation in January 2011 as Legal Counsel and to help manage the TrustLaw team, and relocated to Johannesburg in 2013 to spearhead the Foundation's activities across Africa where he was Head of African Programmes. He returned to London in 2016 and is now Director of the TrustLaw service, overseeing TrustLaw's strategy and activities around the world. Nick also designed and led the TrustLaw Index of Pro Bono, a global tool that maps trends in pro bono and benchmarks engagement levels around the world.
Nick has a special focus on social innovation and the social economy and designed and leads TrustLaw's Social Enterprise and Impact Investing legal training courses. He also leads the Foundation's work on slavery in supply chains, looking after the Stop Slavery Awards and developing other tools designed to help promote transparency in supply chains and operations.
Prior to joining the Foundation, Nick worked as a lawyer specialising in finance and banking law in the London and Chicago offices of Mayer Brown, an international law firm. He also worked in the Transaction Execution team within the Debt Capital Markets division at the Royal Bank of Scotland, focussing on Emerging Market transactions. Nick is British, and speaks French and conversational Spanish and Portuguese. He holds a Bachelor of Arts in English Literature from the University of Nottingham.