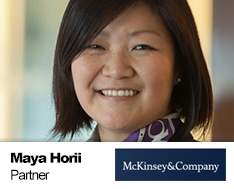 Maya Horii /
McKinsey & Company
Maya Horii is a partner in McKinsey's Washington, DC office. Her work has a dual focus: serving agribusinesses and investors on strategic and organizational issues in agriculture, and working with public- and social-sector institutions and development organizations on challenges in agricultural and economic development.
Maya's recent projects include:
Helping a multinational agribusiness to develop a go-to-market strategy to expand its penetration in India, Africa, and Southeast Asia
Developing a framework to assess a country's readiness for cellphone-based digital finance
Working with a Caribbean country to design an economic-development strategy covering financial services, tourism, and other diversification opportunities
Supporting a transformation at a multilateral development bank to improve its organizational effectiveness, knowledge management, and leadership
Advising a range of institutional investors, development-finance institutions, and private-equity firms on their agricultural investment strategies and due diligence.
Outside her client work, Maya has led our internal knowledge-building initiative on global growth and investment opportunities in agriculture.
Earlier in her career, Maya worked at the African Development Bank and as a research assistant for the Mo Ibrahim Index of African Governance. She holds a master's degree in international development from the John F. Kennedy School of Government and an AB in social studies from Harvard University.