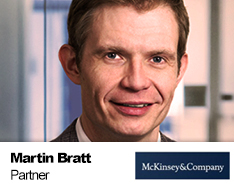 Martin Bratt /
McKinsey & Company
Martin is a partner in our London office, where he works with extractive industries, infrastructure companies, and governments focusing primarily on emerging countries. He focuses on strategic issues including regulatory strategy, stakeholder management, and sustainability.
Martin's recent projects include:
Helping to manage the post-acquisition integration of two large mining companies, including engagement with stakeholders, the integration of human resources and the identification of synergies
Supporting a global basic materials company in refining its approach to government relations in an African country
Counseling an international oil company on the development of its sustainability strategy
Advising an African country on how to improve the attractiveness of investment in its extractives sector
Martin recently co-led a McKinsey Global Institute research project examining economic development in resource-dependent countries, which culminated in the publication of the report "Reverse the curse: Maximizing the potential of resource-driven economies." He has a deep interest in Africa, and has spoken at several conferences on economic development in the continent.
A native of Norway and fluent in English and French as well as the Scandinavian languages, Martin has worked in more than fifteen countries. Before joining McKinsey, he spent time as a volunteer on agribusiness projects in Kenya, Mozambique and Burundi. He holds a master's degree in public administration from the John F. Kenedy School of Government at Harvard University, a master's degree in strategic management from HEC in Paris, and a bachelor's degree in comparative literature and French from the University of Oslo.