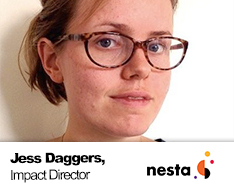 Jess recently completed her PhD focusing on the politics of social impact investing at Birkbeck College, University of London. Her research focuses on the development of the market for social investment as an approach to solving social problems. It explores the conceptual foundations of the field, drawing attention to the assumptions being made when social change is understood in terms of (measurable) "impact".
Over the past few years she has published reports with Alex Nicholls at Oxford's Saïd Business School on the development of Big Society Capital, and the landscape of academic research into social impact investing. She also attended the launch of the UNDP's Sustainable Development Goal Impact Finance initiative in September 2017, drafting a discussion document for the inaugural meeting of the Research Council.
Jess has also worked for the past six years as a freelance consultant and researcher in the UK social sector, specialising in social impact measurement. She has worked with numerous social sector organisations, supporting them to develop a theory of change and build data collection systems. She wrote the first impact report for Citizens UK, the UK's biggest community organising charity, managed the evaluation of the first two years of UnLtd's flagship social investment programme, the Big Venture Challenge, and has worked with a number of impact funds in defining an impact strategy.
She works part time at Nesta, and spends the rest of her time working on publication of her research and teaching at Birkbeck College.