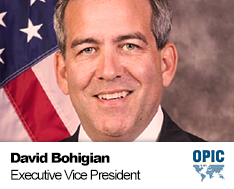 David Bohigian serves as the Executive Vice President of the Overseas Private Investment Corporation after being confirmed by the Senate in August 2017. Bohigian joined OPIC after being the Managing Director of Pluribus Ventures, an advisor to innovative financial services firms and dynamic growth companies.
Earlier, Bohigian served on the core management team of Bridgewater Associates, the world's largest hedge fund. Prior to Bridgewater, Bohigian founded E2 Capital Partners, which developed new financing models for energy efficiency projects. Bohigian previously served as an Assistant Secretary of Commerce, focusing on eliminating barriers to trade and investment for US companies. Earlier,
Bohigian led the Department's Policy Office as the lead economic and energy advisor to two Secretaries. Before the Commerce Department, Bohigian served as a Managing Director of Idealab. Bohigian joined Idealab after it acquired the venture capital firm he founded, VenCatalyst. Prior to founding VenCatalyst, Bohigian was a partner at Jefferson Partners, a Washington, D.C.-based venture capital firm. Bohigian received his law degree from Washington University in St. Louis and a journalism degree from Washington & Lee.