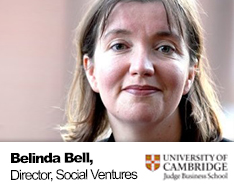 Belinda Bell /
Cambridge University
Belinda is a social entrepreneur with experience in establishing, supporting and growing organisations that bridge the public, private and third sectors; alongside extensive experience in consultancy and within academia.
She has set up a number of social ventures herself and has considerable experience working to support entrepreneurs that are scaling their social ventures.
Her work is informed by a rigorous evidence-based underpinning and she continues to contribute to academic research and writing at the University of Cambridge, including the new Master of Studies in Social Innovation.