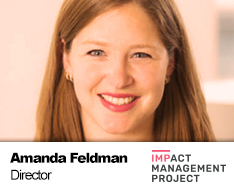 Amanda Feldman /
Impact Management Project
Amanda is a Director on the Bridges Impact+ team, focused on the Impact Management Project. She specialises on impactful innovation and investment strategy with fund managers, corporations, policymakers and entrepreneurs. She is regular speaker on relevant trends (see her TEDxLSE talk here).
Before joining Bridges, Amanda led research and advisory at Volans on how multinational corporations can transform the way business is done, especially through corporate venturing. She brings experience in youth-led social enterprise and public health policy across North America, Europe and Asia. She is a trustee at Future First Global, a mentor for Bethnal Green Ventures, a BMW Foundation UK Responsible Leader and a member of Sandbox.
She holds a B.A. in English and Spanish literature from the University of Pennsylvania and a Master in Public Administration (MPA) from the London School of Economics.